Piece of Mind For Your Family
Understanding the significance of life insurance extends beyond its commonly perceived role as a financial safety net in the event of death. The true value lies in its capacity to provide long-term financial security, protect against debts, and cover end-of-life expenses.
Life insurance ensures that your loved ones will have the support they need to maintain their lifestyle and fulfill their aspirations in your absence. It aids in managing outstanding debts like mortgages or car loans, thus preventing them from becoming a burden on your family.
Furthermore, life insurance provides beneficiaries with tax-exempt payouts, allowing them to receive the full policy amount. Additionally, it can even be utilized as a means of contributing to charitable causes. Above all, the insurance provides peace of mind, a non-material benefit that nonetheless enhances the quality of life.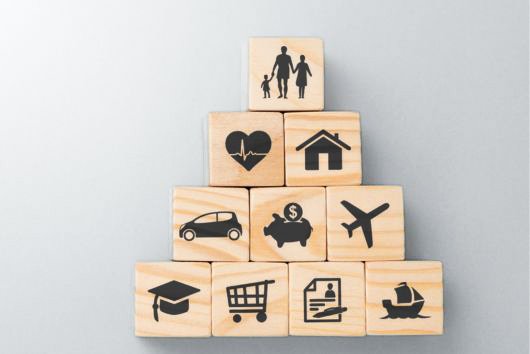 Many individuals consider Life insurance to be the cornerstone of a sound financial plan. And while no one likes to think about passing on, the insurance can relieve you of the financial worry your loved ones may face in the event of your passing.
Your beneficiaries will be able to use your Life insurance policy to help pay for anything from expensive funeral costs and estate taxes to making up for lost income or funding your child's education. It can even be used to continue payments on your mortgage to help ensure that the family home stays in the family.
We know that choosing an insurance plan is a big decision with many important factors to consider. Our knowledgeable team of insurance professionals is committed to walking you through the process and providing you with the best insurance solution to give you and your family the reassurance they deserve.
Protect your loved ones from income loss and financial catastrophe: Whether you have young children, a spouse or even elderly parents that depend on your income, in the event of death the insurance policy can serve as a partial replacement for that lost income so that your loved ones do not suffer a financial crisis.

It can pay for your final expenses: To help with final costs such as burial costs, estate planning and executor costs, debts and medical expenses, so that your loved ones will not be unexpectedly burdened by these costs.

The insurance can be an inheritance to your heirs: It can provide for your family once you are gone, even if you currently have no assets.

It can also be used to pay estate taxes: The insurance policy can help, so that your heirs won't be forced to sell assets to cover tax payments. It can also be a form of savings account since some policies allow you to build cash value, which can be withdrawn or borrowed at your request. The insurance can also be used to make planned charitable contributions at the time of your death.
Once again everyone at Adamson amazes me with exceptional customer service. They are quick to respond and always available to ask questions or make changes. We are grateful to have such a wonderful team to work with!
Mike and all the staff are super amazing. They are always helpful and super quick to respond. Great people to work with!
"My claim was handled with the utmost excellent customer service. The follow-up was precise. The whole transition went smoothly and I appreciate it!"
"My car rates went down almost 1/2 of my previous insurance company, maintaining the same high level of coverage. My house insurance prices went down, with greater benefits than what I had before. Thank you Adamson Insurance & Associates!"
"When I first went to Adamson Insurance & Associates I saved around $400.00 a year without losing coverage; as a matter of fact they added MORE coverage for me."
"Adamson Insurance & Associates always follows up with us to make sure everything went well and that his clients are happy. That is great customer service!"